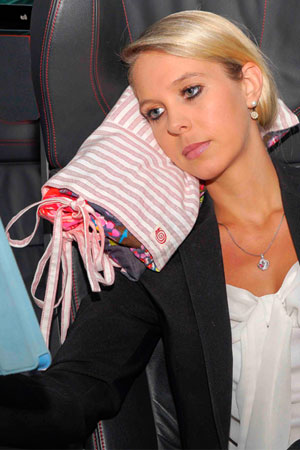 TraWuKu for adults – say HELLO to the unique TRAum WUnsch KUschelkissen (dream and wish cuddly pillow) for adults, with Stone pine
Day-to-day life is becoming more stressful and hectic and demands more and more from us – not just at work, but also privately, we have to juggle everything more and more often. Do you not long for – at least occasionally – some calm and security?
Then you have found what you have been looking for with our TraWuKu. You can cuddle up to your TraWuKu, snuggle and hug it to your heart's content, just like during your childhood, when you had your own cuddly animal or blanket. Just like before, we recommend that you "nurture" your TraWuKu so that it can support you as well as possible.
Tra

Wu

Ku

– a special pillow with meaning

TRA…stands for Traum (dream)
WU…stands for Wunsch (wish)
KU…stands for Kuscheln (cuddle), warmth and connection to ourselves and our fellow human beings
Our TraWuKu, an "all-rounder"…
You can take our TraWuKus with you on all of your journeys, not just at home – either flat in all bags or suitcases, or as a comfortable bolster for journeys – on the train, in the car, on the bus, or even on the airplane.
The Stone pine wood chip filling also gives the TraWuKu for adults and additional, almost integrated relief factor.
The Stone pine, also known as Swiss stone pine, Arolla pine or Austrian stone pine, has a proven positive effect on our health and well-being. For example, it is known that it regulates heart activity and the vegetative nervous system with an improvement on sleep and general recovery/relief.
Your choice: TraWuKu BASIC or TraWuKu Premium
The functions, possible uses, and filling are identical for both TraWuKus.
However, there is a qualitative difference in the quality of the fabric. The outer cover of the TraWuKu Premium is more robust and higher-quality – a noticeable difference.

Do you live your dreams or do you dream about your wishes?
What do you still wish for in your life? What do you dream about? The TraWuKu can also be helpful to you here – get closer to your wishes and dreams, one step at a time.
How do you do that?
Take a few minutes to invest in your "future dreams/wishes" every day.
The first pocket is for "small wishes", the things that you want to achieve during the day or the week ("small and manageable" is the motto here). The other pocket is for "big wishes and goals", bigger projects that can take a few months or years, or even your whole life, to achieve.
Give free rein to your fantasies and "think big", but do not forget that all "journeys" start with a first step. Start in the best possible way today and put your excuses in the past.
TraWuKu for children
The TraWuKu pillow activates and supports different (sensory) levels:
Do you know how many "bits" influence our consciousness? 11 million bits/second!
How many of these "bits" do you think we consciously perceive? Only and incredible 40 bits/seconds, or 0.0000036%!
Think about how you link your consciousness because: Where the focus goes, the energy flows!
When we link our wishes and goals with different sensory levels, we increase the chance of them becoming reality.
It is for this reason that the TraWuKu affects the most varied sensory levels:
TraWuKu and the sense of SIGHT
The pillow is simply nice to look at!
TraWuKu and the sense of SMELL
The effect of the pillow is further strengthened by the smell of the Stone pine wood. Breathing this in is particularly healthy!
and the sense of HEARING
A soft, "crackle" of the sawdust which doesn't disturb – because the ears turn into EYES!
TraWuKu and the sense of TOUCH
Adjust, roll up, roll out, turn – smooth until is good for your child. Simple and great!

TraWuKu, a result obtained from research and practice
Neuroscience research has shown that our brain reacts the most to emotional stimuli and in particular when these emotions are linked or combined with sensations. The TraWuKu, this dream and wish cuddly pillow can and will be helpful in making your dreams, wishes and goals become reality with the combination of all of the functions and connections.

PROnatur24 tip for the dream and wish cuddly pillow (TraWuKu)
Use the opportunity and get this elegant TraWuKu cuddly pillow for your dreams, wishes, and goals of tomorrow!