CBD is the short form for cannabidiol and comes from hemp, that is the cannabis plant. Currently hemp is being rediscovered because it is extremely versatile. In the form of CBD also to support our health.
For decades, cannabis has been linked to drugs only. It is about the intoxicating substance THC which is obtained from the flowers and leaf parts of the female hemp plant and currently still falls under the drug law. We say "at the moment" quite consciously, since since 2017 more and more efforts to legalize cannabis and thus no longer classify it as a drug. One reason for this is CBD, which besides THC sensational, but addict-free agent of hemp with incredible potential for our health and probably also the comparison with alcohol, our legal drug, which, however, has a much more harmful effect on our organism compared to cannabis. "Alcohol can kill people (alcohol poisoning), but there is no smoking to death."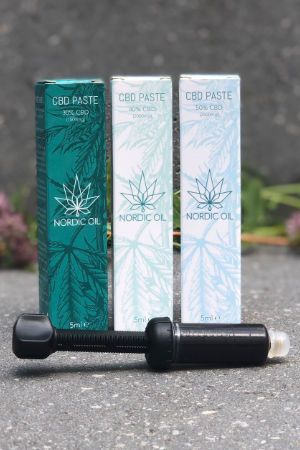 As with all products, our focus is on the impact and support of getting healthy and staying healthy. Products with the effect of cannabidiol (CBD) are therefore a wonderful addition to our work. With the CBD products from Nordic Oil in Scandinavia we have now found a brilliant series that could easily carry our name PROnatur24. Everything about these products is PRO NATUR, whether CBD hemp oil, CBD paste, CBD soft capsules or CBD pastilles for our stubby tiger or fur nose. Hemp is one of the oldest crops and ornamental plants on earth.
Your personal CBD check (german)
What is CBD? What is the effect of cannabidiol?
This question is currently not very easy to answer. Basically, the results available so far are promising and the effect of CBD is confirmed in many ways. Cannabidiol (CBD) is a barely psychoactive cannabinoid of female hemp. From a medical point of view, the anticonvulsant, anti-inflammatory, anxiolytic effect of CBD is known today and it also helps with nausea. Other pharmacological effects such. B. an antipsychotic effect, however, are still being explored. In any case, CBD continues to question science.
How can the CBD molecule affect so many different parts of the body? And why does this substance cause partly opposite effects (such as improving sleep quality and at the same time optimizing wakefulness)? In summary, these questions are often answered by the adaptogenic (= adaptive or modulating) effect of CBD.
Maybe that's why CBD is not so easy to detect medically as the human body can produce cannabinoids themselves, called endocannabinoids, and these are of particular importance in the neural network. Meanwhile, a team of scientists from brain research could typify this substance as a messenger. A messenger that is even able to mimic the intoxicating effects of THC. It raises for us at this point the interesting question of how it can be that a natural substance that even the human body can simulate is prohibited by the Narcotic Substance Act, but alcohol is legal despite all harmful effects. Of course – not every question needs a comprehensible answer.
In the course of the Health Claims Regulation, we must appeal to the possibility form regarding the healthy effects of CBD on the human body. CBD can have a positive effect on the human nervous system and have a supporting effect here.
To the CBD Wiki from Nordic Oil
Questions about CBD – answered by NORDIC OIL
Acquired with permission from Nordic Oil. Responsible for the content and copyright © Nordic Oil.
(Original text in german and translated by using the translation service of google. Some content errors based on this translation are possible.)
YES TO CBD FROM CANNABIS OUT LOVE TO LIFE
Before we made the decision to include the entire range of CBD products for our customers, it was once again crucial for us to get to know the products around the cannabis plant first. Of course, including our pets who fell in love with the CBD dietary supplement right from the first administration. The cannabidiol lozenges are consumed faster than we would like and we have the feeling that the two free-range cats are already more relaxed outside. We continue to observe this – our tomb tigers as well as ourselves.
The product variety of CBD products is constantly changing and expanding. The aim of Nordic Oil is to be at the technological and technological level in terms of potential health effects. Not in relation to the competition – here every customer has to decide for himself what to trust. This was crucially important to us as PROnatur24 – quality, price and performance have to be right, especially in terms of fairness for the consuming person.
Despite all the positive information about the CBD, it is of course no panacea for a fundamentally wrong way of life. No substance can heal and repair years of depleting behavior on one's body overnight. In addition, the Health Claims Ordinance prohibits the taking of medical statements that can not be substantiated by detailed (and expensive) studies. Therefore, in descriptions of the product we will always use the possibility form such as "can have a supporting effect" even if the effect is very clear and known in practice. Of course, with the publication of definitive studies, this situation will change.

PROnatur24 starts with a great variety of CBD products
We have already decided to start with a wide variety of CBD cannabis plant products. So this series already includes:
And this is only the beginning. In addition to other CBD concentrations in existing products, new products will be available, such as a CBD lip balm or CBD suppositories for rectal or vaginal cannabidiol use.
Our CBD products in overview