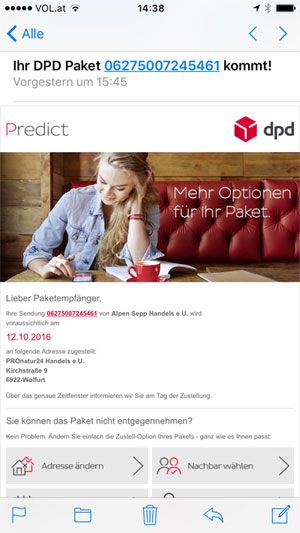 We generally ship cheaply at flat rates!
Generally speaking, making our effective and sustainable products accessible to all interested people is an issue. Do you want our products? We shall also take care of delivery! Unfortunately, it is impossible to display shipping variants for all countries worldwide, therefore the online shop is currently limited to the countries listed below.
For shipping addresses outside of the listed countries, please request products and shipping costs via e-mail at "info@cbdprime.shop" or by calling us on +43 5574 24010. You will reach us comfortably Monday-Friday from 13:00 until 20:00 o'clock.
You will receive the product that you want, THAT IS A PROMISE!
The following shipping information should be considered as guidelines. There can be modifications for the shipping of individual products. Your order's shipping costs will be shown to you before you complete your order.
Generally possible and obviously free of charge. Make an appoint for pick-up because we are not constantly present and do not have a salesroom with opening times. PROnatur24 is purely an online shop.
Shipping information by country
Misprints and typographical errors excepted. As of: 30.04.2021.