WE RELY ON YOUR ACTIVITY ON CBDPRIME® WITH LOYALTY POINTS!
No matter if you are writing a product review or simply shopping in the shop. We reward both with points.
You can redeem your accumulated points at any time either as a discount or, if there are enough points, the selected product is even free of charge.
Loyalty points are an ideal complement to our bonus idea for active referrals. Collecting points is extremely easy; should still remain open questions so we will answer you very much like also personally on the phone.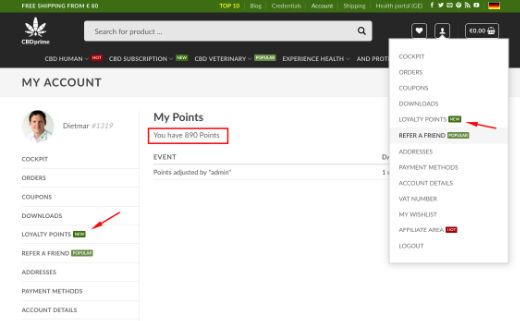 SO EASY YOU COME TO LOYALTY POINTS
Collecting points is only possible with an active customer account. If you do not have a customer account yet, you can create one HERE and then it starts with the loyalty points.

Before shopping or reviewing a product, you MUST log in to your account to get loyalty points for your purchase.

Each verified product rating is rewarded with 50 bonus points to your customer account.
Every euro of your order (s) equals at least one point. Depending on the product and the action, the points can also be higher. The count started in August 2019.
The points obtained from a completed order can be used immediately for the next order.
EASY TO REDUCE THE PRODUCT PRICE WITH YOUR POINTS
50 points equals a credit of 1 Euro.

(Example: 2,000 points correspond to a credit of 40 euros).
Basically, points can only be redeemed after logging into the customer account. Only in this way can we ensure that it is you who uses your points to reduce the price of an order.
You can always activate points for your order directly in the shopping cart and on the checkout page. You also determine how many points you want to use for the order.
You always know the current status of your points directly after logging into the cockpit of the customer account under the menu "POINTS".
DETAILS ABOUT LOYALTY POINTS FROM CBDPRIME
Each new point can be redeemed for 1 year.
Exclusively available for customers. Employees and partners are excluded from this loyalty program.
There is no redemption point for loyalty points – so a product can also be free. Loyalty points are not applicable for vouchers and shipping costs.
Only verified product reviews are honored ie. The product must have been purchased from us so we are sure that you actually know it. We put a lot of emphasis on real practice-related reviews.
Loyalty points are a voluntary additional marketing service of CBDprime without legal claim for the customer and thus no fixed component of a product order. In the event of misuse or suspected manipulation, CBDprime has the right at any time (without prior notice) to correct or delete individual points, to block customers for the points program or to terminate the loyalty points program.
The cash transfer of loyalty points is excluded. Loyalty points are not transferable without written additional agreement. Legal recourse excluded. The terms and conditions of CBDprime apply.
SCREENSHOTS TO THE POINT VALUE AND THE REDEEMING OF TRUE POINTS